Speaking at COP26, British Prime Minister Boris Johnson warned that time is running out to save the Earth from the fallout from the climate change crisis, as well as the blame that will be borne by all future generations.
In his opening speech to the COP26 climate summit in Glasgow, Johnson described the United Kingdom as "Saudi Arabia in the wind".
He stressed Britain's possession of the necessary technology, with the need to search for financing by the private sector that enabled the country to end its dependence on coal.
Climate And James Bond
Using the James Bond metaphor to warn of the dire consequences of failing to do better global climate deals, Johnson welcomed delegates to Glasgow, speaking of Bond as the city's most famous imaginary son.
He made the analogy between the time bomb that Bond must defuse in his film, and the situation in which humanity finds itself.
Speaking at COP26, he stressed the need for action and the consequences the world would face: "The more we fail to act, the worse it gets and the higher the price we will have to pay when we have to act."
"If we don't take climate change seriously today, it will be too late for our children to do so tomorrow," Johnson said.
He said, "We may not feel like James Bond very much… We don't have to all look like James Bond… But we have the opportunity to make this summit the moment when humanity began to defuse that bomb… Yes, it will be difficult, but yes We can do that."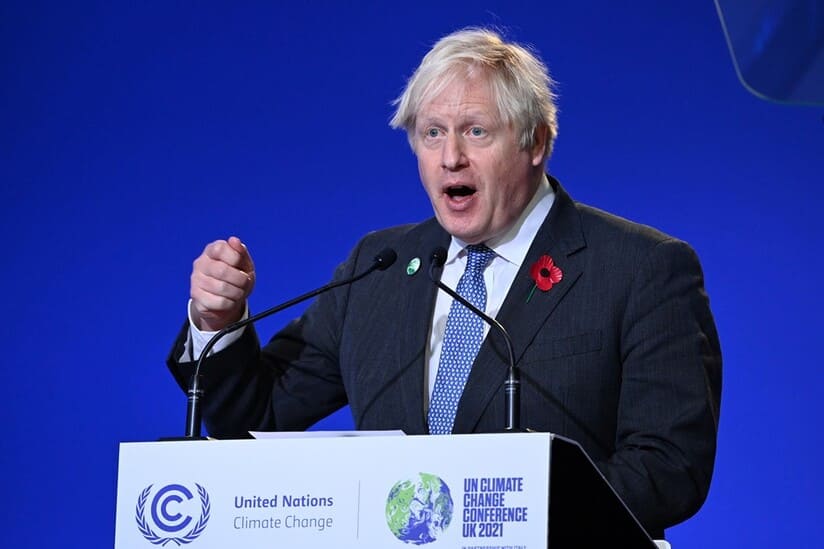 Getting Rid Of Hydrocarbons
Johnson suggested that we could begin to shut down the billions of hydrocarbon combustion chambers located across the planet.
He said: "We can phase out cars with internal combustion engines hydrocarbons by 2035. We can do that, and we in the UK are ending new sales by 2030."
He added, "We can end the use of coal-fired power plants… We can do this by 2040 in developing countries, and by 2030 in rich countries."
He also talked about planting hundreds of millions of trees, as it is not technologically difficult, as well as halting and reversing deforestation by 2030.
Beginning Of The End
The British prime minister also emphasized that COP26 cannot be the end of climate change – even if it succeeds – but it must mark the beginning of the end.
"We need to give this lifeboat a big lift, and embark on a journey towards a brighter, cleaner future," he said.
SOURCE  : COP26 Climate Conference