Gold prices fell on Friday, due to widespread profit-taking, while the yellow metal was preparing to achieve weekly gains for the second time in a row.
Gold found support as investors turned to safe haven assets, awaiting signals of an interest rate hike from the US Federal Reserve meeting next week.
Gold prices ended their trading on Thursday with a decline, relinquishing some of the large gains they had achieved in the beginning of trading, when they recorded their highest level in two months.
Gold prices are up about 1.2% this week and are on track for their second weekly gain, which is a positive start for the precious metal in what is expected to be a difficult year.
Gold Prices Today
By 09:37 AM GMT, the price of gold futures contract for April delivery fell by 0.63%, or $11.70, to reach the level of $1,833.20 an ounce.
The spot price for the yellow metal also declined by 0.40%, to record $1,831.94 an ounce.
At the same time, the price of silver futures contracts – for March delivery – decreased by 1.40%, to record $24.37 an ounce.
The spot platinum price also decreased by 0.55%, to record at $1038.54 an ounce, while the spot palladium price fell by 0.89% to record at $2046.86 an ounce.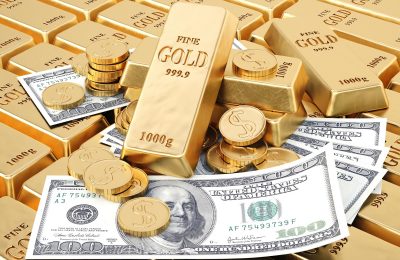 Interest Rates
All eyes are on the US Federal Reserve's Federal Open Market Committee scheduled to meet on January 25-26 for any updates on the Fed's current plans to raise interest rates on the back of rising inflation.
Although gold is often seen as an inflation hedge, it is highly sensitive to rising US interest rates, which increases the opportunity cost of holding non-interest bearing bullion.
This comes at a time when the number of Americans who filed new applications for unemployment benefits jumped to its highest level in 3 months last week.
Japan's core consumer prices increased by 0.5% in December compared to the previous year.
US Bonds
The benchmark 10-year US Treasury yields fell on Thursday, reducing the opportunity cost of holding non-interest bullion, as it supported gold's recovery in early trading before turning lower with profit-taking.
"Gold managed to maintain its strength this week even as the US Federal Reserve became more hawkish, probably because the real prices are negative," said Ilya Spivak, currency strategist at DailyForex.
"A little bit of a bullish rush for gold could be a quick first estimate because the risk is actually skewed toward an ominous surprise, even if the Fed doesn't do anything different, just because of the state of mind of the market," he added.
"Car sales growth is expected to return to normal this year, with supply chain issues easing, which should benefit auto catalyst makers' demand for Platinum Group Metals," ANZ analysts said in a note.
Inflation In Britain
Consumer price inflation in Britain rose more-than-expected to 5.4% in December, up from 5.1% in November and the highest level since March 1992, the Office for National Statistics said.
"It's very tempting to look at the geopolitical background as something that people think of when they think of gold," said Ilya Spivak, currency strategist at DailyForex.
"Although gold does not appear to be behaving in this way at the moment, it appears to be closely tied to the Fed's narrative," he added, Reuters reported.