Gold prices declined in trading today, Monday, and fell from their highest level in more than 5 months, which they reached during the trading session of the previous session.
This comes in conjunction with the stability of the dollar, which eased the attractiveness of the yellow metal, with many investors expecting that inflation will push central banks to tighten their monetary policies.
Gold Prices Today
By 08:45 AM GMT (11:45 AM Mecca Al-Mukarramah time), the price of gold futures – for December delivery – decreased by 0.33%, to record the level of $ 1862.30 an ounce.
The yellow metal had gained about 2.8%; The equivalent of $51.7, during last week's trading.
The spot price for the yellow metal also decreased by 0.26%, recording $1859.98 an ounce.
At the same time, the price of silver futures contracts – for December delivery – decreased by 0.4%, to $ 25.25 an ounce.
While the spot platinum price decreased by 0.88%, recording $ 1076.27 an ounce, and the spot palladium price decreased by 0.8%, to reach $2,098.58 an ounce.
Market Factors
"Until the price of gold breaks above $1875-1880, gold will find resistance from the dollar, short-term US Treasuries yields and a potential higher move in long-term yields if the Federal Reserve starts," said Stephen Innes, managing partner at SBI Asset Management. hinting that he will raise interest rates soon.
The dollar index fell 0.1%, but was not far from Friday's 16-month high; A rising dollar increases the cost of gold to buyers holding other currencies.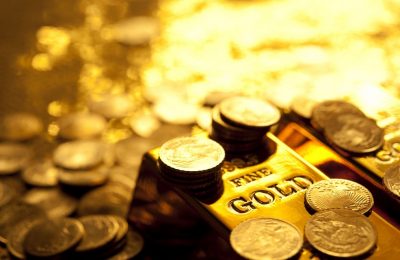 High Inflation
Minneapolis Federal Reserve Chairman Neil Kashkari said on Sunday he expects inflation to rise over the next few months, but cautioned that the US Federal Reserve should not overreact to high inflation; Because it will most likely be temporary.
ING's Head of Commodity Strategy Warren Patterson said: "Inflation figures have provided a huge boost to gold, however prices could be heading lower towards $1,700 over the course of 2022 as higher inflation likely means that banks are likely to lose interest in gold. The central bank is accelerating the pace of monetary tightening.
Increases in interest rates tend to reduce the attractiveness of non-interest bearing gold; Because it raises the opportunity cost of the metal.
Market participants are awaiting US retail sales data, due on Tuesday, after consumer confidence hit its lowest level in a decade.
SOURCE : ATTAQQA