Gold prices rose in trading on Wednesday, as US Treasury yields and the dollar declined, with investors turning their focus to key inflation data due to be released this week.
Many experts expect inflation data to influence the US Federal Reserve's decision to scale back stimulus at a faster pace.
Gold prices today
The price of gold futures contracts – February delivery – increased by 0.16%, to reach the level of 1787.50 dollars an ounce.
The spot price for the yellow metal also increased by 0.16%, recording $1787.07 an ounce.
At the same time, the price of silver futures contracts – for March delivery – fell by .48%, to $22.42 an ounce.
The spot platinum price increased by 0.95%, to record $965.56 an ounce, while the spot palladium price rose by 0.58%, to reach $1866.49 an ounce.
Meanwhile, the dollar index, which monitors the performance of the US currency against a basket of 6 major currencies, decreased by 0.2%, and the US Treasury bond yields for 10 years and 30 years fell from their highest level in a week on Tuesday, which strengthened the attractiveness of bullion.
A lower yield reduces the opportunity cost of gold while a weak dollar reduces the cost of bullion for holders of other currencies.
Political Tensions
Bullion prices also rose after US President Joe Biden threatened to impose "economic and other strong measures" on Russia if it invaded Ukraine.
Gold, often seen as a safe asset, tends to benefit from economic and political uncertainty.
"This geopolitical issue has come into the background and this is driving a small bid for gold," said Stephen Innes, Managing Partner of SBI Asset Management. US Federal Reserve next week.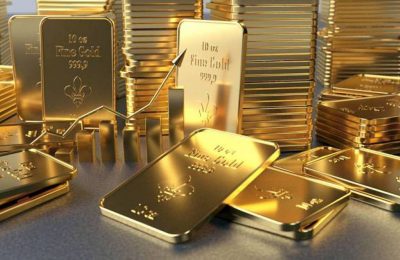 US Inflation Data
Investors are also looking forward to the US CPI report due on Friday, which may have an impact on the decision the Federal Reserve makes at its December 14-15 policy meeting.
Economists polled by Reuters had expected the CPI for November to come in at 0.7%.
"Negative real interest rates could keep gold prices near $1,800 in the first half of 2022, but downward pressure is likely to build after the Fed starts raising rates in mid-2022," ANZ analysts said.
AN Zard analysts added that gold is expected to touch $1,600 an ounce by the end of next year.
Lower stimulus and higher interest rates tend to push government bond yields higher, raising the opportunity cost of owning gold, which carries no interest.
Central Banks
The Bank of England may be delayed again next week in becoming the first major central bank in the world to raise interest rates from pandemic lows, due to the emergence of the Omicron mutant.
European Central Bank policy maker Madis Mueller said: "Eurozone inflation may exceed the ECB's long-term expectations, so there is no reason now to boost the old bond-buying program when the contingency plan expires next March."
Metals Fox advisers said that the average prices of gold, silver and platinum next year will be about the same as they were in 2021, while the average price of palladium will decrease.
SOURCE : ATTAQQA