Lucid's stock declined by about 15% in pre-opening trading, today, Monday, unexpectedly for observers and analysts.
This came after the company announced that it had received a subpoena from the US Securities and Exchange Commission to obtain documents related to the investigation of Lucid's deal with the special purpose acquisition company "Blank Check Companies", known as "Churchill Capital Corp. 4".
"The investigation appears to be related to the business combination between the company and Churchill Capital Corp. 4, and certain expectations and data," Lucid said in a statement.
Details Of Lucid's Deal With Churchill Corp
In the context of talking about Lucid's stock, do not forget that the company was founded in 2007 in the name of Ativa by the former CEO of Tesla, Bernard Tse, and businessman Sam Wing.
The company plans to achieve a production target of 20,000 vehicles next year, and 50,000 vehicles in 2023.
Lucid was initially funded by Chinese venture capitalists and Silicon Valley investors, with additional funding from backers such as Chinese state-owned automaker BAIC Motor.
In 2018, the Saudi Public Investment Fund announced its acquisition of a 62.72% stake in Lucid.
However, by early 2021, more money was needed, so Lucid went public through a merger of Churchill Capital Corp. 4, raising about $4.4 billion.
Lucid announced plans to more than triple the size of the Arizona plant (which opened in December 2020). Production actually started in late September 2021, while the first shipments were delivered to customers in October.
The deal, completed earlier this year, with (blank) buyout and veteran dealmaker Michael Klein, was one of the largest with special purpose buyouts, which included electric car makers, such as Nikola.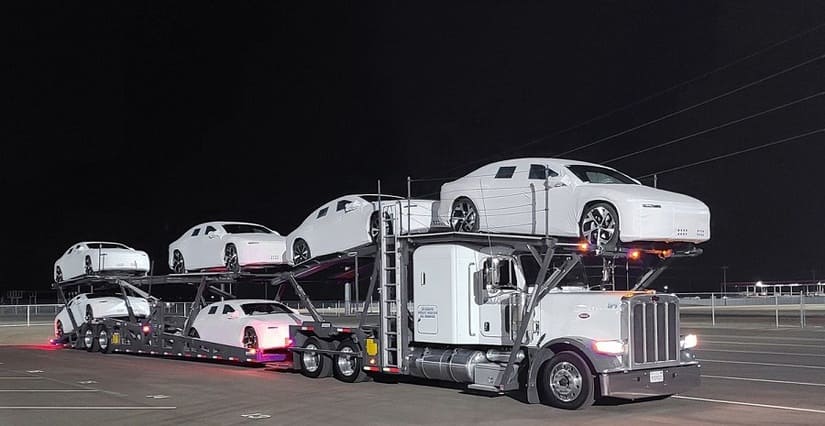 Lucid's Stock… And Production Goals
Production targets for this year are still notably low, as Lucid says it plans to produce just 520 cars for the rest of 2021.
That's less than half the number of cars fellow startup Rivian aims to build this year, although the two companies started production in September, though Lucid intends to ramp things up quickly in 2022 with a goal of 20,000 units.
Meanwhile, the 2023 target is 49,000 units, and it will be a particularly key year for the company, due to the launch of the Gravity SUV and planned expansions in other markets in Europe, the Middle East and Asia.
SOURCE : ATTAQQA