Qatar Petroleum has signed a long-term sale and purchase agreement with CNOOC Gas and Energy Trading and Marketing Co., Ltd., a subsidiary of China National Offshore Oil Corporation (CNOOC).
Under the agreement, 3.5 million tons per year of LNG will be supplied to CENOC over a period of 15 years, starting in January 2022.
Meet the needs of China
This is the third agreement this year signed by Qatar Petroleum to supply gas to China. In March, it signed a long-term sale and purchase agreement with China Oil and Chemical Corporation (Sinopec), according to which it will supply two million tons of liquefied natural gas annually.
In June, Qatar Petroleum signed a long-term sale and purchase agreement with Shell, under which it will supply China with about 1 million tons per year of liquefied natural gas for a period of 10 years.
The three agreements come within the framework of Qatar Petroleum's strategy to dominate the liquefied gas market, and it is scheduled to start supplying gas according to the agreements during the month of January.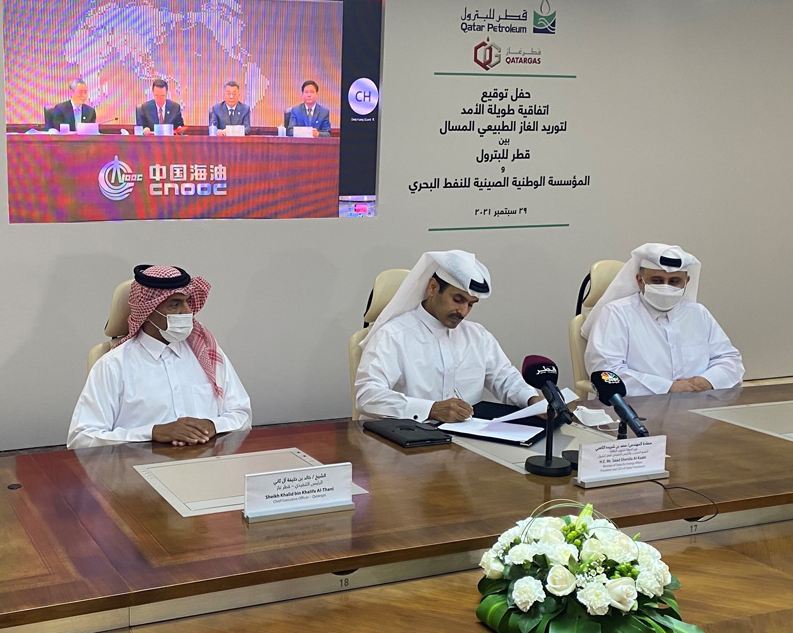 The new agreement
The new agreement was signed by the Minister of State for Energy Affairs, the Managing Director and CEO of Qatar Petroleum Saad Sherida Al-Kaabi, and the Chairman of the Board of Directors of Cinoc, Wang Dongjin, in a ceremony held via video communication technology, according to the company's statement.
Al-Kaabi said, "We are pleased to continue to strengthen our strong relationship with CNOOC, which is exemplified by the signing of the new long-term LNG supply agreement."
"We are proud to continue to meet China's growing needs for clean energy provided by LNG, and we thank CNOOC for choosing us as a reliable supplier," he added.
Chinese Cinoke
The history of the partnership between Qatar Petroleum and China's CNOOC in the field of LNG dates back to September 2009, when the first shipment of LNG was delivered to the company in China.
By August 2021, Qatar had delivered a total of 715 cargoes to China, of which 270 (more than 24 million tons of LNG) were to CNOOC.