Moscow continues to make solid gains from selling Russian fossil fuels to the European Union, despite sanctions and lower imports.
The European Union's imports of Russian energy have reached 60 billion euros ($64.4 billion) since Russia launched its war on Ukraine last February, according to a new tracking tool developed by the Europe Beyond Coal campaign.
The campaign argues that the money could have been used to fund renewables rather than Europe continuing to rely on Russian fossil fuels, Emerging Europe reports.
The campaign was founded in 2017, and includes a group of civil society organizations across the European continent, and aims to end Europe's dependence on fossil fuels, and a fair transition to renewable energy by 2035, according to what was monitored by the Specialized Energy Platform.
EU Expenditures
The campaign revealed that the European Union spent about 32.5 billion euros on Russian oil, 25.9 billion euros on gas, and 1.6 billion euros on coal.
Campaign calculations showed that the continent has wasted billions on fossil fuels since the invasion of Ukraine, and could have implemented several green projects, which include adding 735,000 rooftop solar cells and 7,300 football-sized solar farms.
In addition, the installation of 1,900 onshore wind turbines, 300 offshore wind turbines, nearly one million heat pumps, and the construction of 270,000 thermally insulated homes.
Campaign director Catherine Gutman said governments and the energy sector need to immediately end spending on fossil fuels and invest in renewable energy if they are to bring peace, achieve energy independence, and tackle climate change and the cost of living.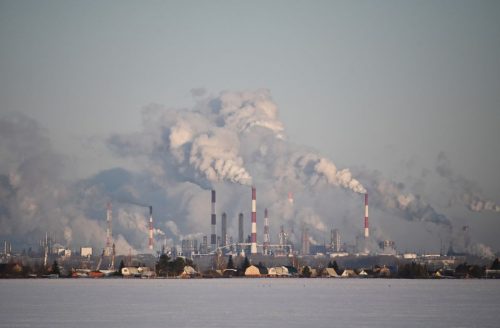 European Ban
In April, the European Union agreed to ban all imports of Russian coal starting next August, while last week it agreed to a partial ban on imports of Russian oil.
The EU will be able to ban 90% of Russian oil imports by the end of 2022, but countries such as the Czech Republic, Hungary and Slovakia have guaranteed an exemption on pipeline imports.
So far, the European Union has not addressed the idea of ​​imposing sanctions on Russian gas exports to Europe, but in May it revealed a plan to end the continent's dependence on all types of Russian fossil fuels by 2027, including gas, and accelerate its transition to renewable energy. According to what was monitored by the specialized energy platform.
Europe Hostage
At the same time, Russia continues to exert significant political pressure on the European Union by playing on its energy needs and lack of green capabilities to abandon Russian fossil fuels.
Only Russia has benefited from the fluctuations and instability in energy markets as a result of sanctions.
According to Bank of Russia statistics, this year is a record year for the Russian public treasury, and Russia is currently achieving a current account surplus of $96 billion, against the backdrop of rising commodity prices.
According to Bloomberg estimates, it expects total oil and gas revenues for this year to reach $285 billion.
"EU countries are fueling a brutal war on our country, and conflicts elsewhere in the world by buying up Russian fossil fuels," said Svetlana Romanko, campaign leader for Stand with Ukraine campaign group.
It considers that the countries of the European Union are morally obligated to end what it described as a "farce", by imposing a complete ban on all imports of coal, oil and gas from Russia.
And she continued, "Not only will the Ukrainians thank them for that, but their people will thank them, too, because in the long run they will achieve energy security and lower energy bills."