2021 saw significant growth in demand for LNG-powered vessels on the high seas.
More than 10 operators announced multiple orders for vessels throughout the year; This reflects the awareness of shipowners and operators of the environmental and climate benefits of using LNG.
A new report, "Liquefied Gas as a Transition Fuel", released by the Multi-Sectoral Industry Alliance Global (SEALNG), reveals the progress the shipping sector has made in using LNG to decarbonise.
Expected Progress
The report outlines progress to be made in 2022, noting that the LNG ships and infrastructure invested today will become part of a carbon-neutral future, according to the Minifold Times.
The report stated that the year 2021 witnessed significant progress and growth of liquefied natural gas as a marine fuel and a way to decarbonize; Demands for LNG ships reached record levels, while the fueling infrastructure continued to expand at a rapid pace.
Noting that significant progress had been made in increasing the production of bio-liquefied gas and renewable synthetic liquefied gas; LNG vessels will maintain their value as the shipping sector shifts towards achieving the goal of carbon neutrality.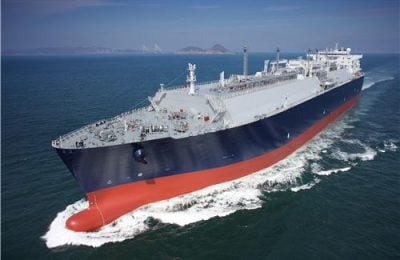 High Demand
Since SEALNG's last review in January 2021, the volume of new LNG building orders has accelerated significantly, approaching 30% of total required tonnage.
For some sectors, such as very large container ships that support the global trading system; More than 50% of the order book was on ships with LNG fueled or ready to run on LNG, according to Hellenic Shipping News.
It is worth noting that orders for LNG container carriers have increased 5-fold since January 2020.
It is expected that more than 90% of the new Car and Truck Carriers (PCTC) that will enter the market in the coming years will be dual LPG.
Tankers and cargo ships are following suit. It increased 7 times and 2 times in a row in 18 months.
Nearly a quarter of tanker orders are LNG, and 20 VLCCs are ready to run on LNG, the SEALNG Multi-Sectoral Industrial Alliance (SEALNG) report added.
Shell President: Reducing emissions is a societal issue.. The world needs a carbon market
Royal Dutch Shell CEO Ben van Beurden says the world cannot come close to carbon neutrality without a functioning global carbon market, praising the results of the COP26 climate summit in Glasgow.
Van Burden stressed that the Dutch court's decision to oblige the company to reduce its carbon emissions was a "blow", as he made clear that reducing emissions is a societal issue that cannot be handled by a single company.
He stressed that the company's progress will continue to depend on society's progress in the energy transition, saying: "We cannot go faster than all of our customers, otherwise we will not have customers to buy our products," in an interview published by Shell's official website.