New York City announced the modernization of its fleet of fossil fuel cars with hundreds of new electric vehicles from the American company Tesla.
The city is currently proposing a contract to purchase a fleet of Tesla Model 3 cars, the world's best-selling electric vehicle.
The proposed contract will be discussed at a public hearing on December 16, 2021.
The city did not disclose the number of Model 3 vehicles included in the contract, but if the fleet value is around $12,360,000, the number is expected to range between 200 and 300 electric vehicles.
Biden encourages electric cars
US President Joe Biden is seeking to encourage electric cars in the United States in the context of achieving his climate goals and reducing gasoline demand.
The US Congress is currently considering adopting a tax exemption of 12,500 dollars, which includes 4,500 dollars on US electric cars made by unions.
US-made electric cars will be eligible for a $12,500 exemption after 2027, under a House proposal.
Police Patrol Cars Replacement
Earlier this year, the New York Police Department purchased a Tesla Model 3 to convert it into a police patrol car, becoming one of several police departments across the United States that have decided to purchase a Tesla Model 3, to replace gas-powered patrol cars.
These departments have succeeded in making a significant difference in the costs of their fleet by saving gas, according to Electric.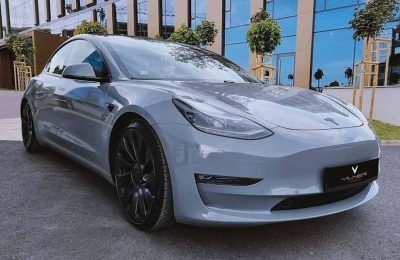 Buy 300 electric cars
The proposed new contract to buy a fleet of Tesla cars comes after Mayor Bill de Blasio announced a $75 million investment in electric vehicles just a few months ago.
The Palacio announcement included several promises, including the purchase of 300 electric cars to replace fossil-fueled models, 275 fast vehicle chargers, 11 new solar charging stations, 3 electric buses to replace diesel models, 78 electric ambulances, and the refurbishment of 125 working trucks. Diesel to run on electricity
The Tesla Model 3 fleet will help fulfill its first promise to replace 300 fossil-fueled electric cars.
The Tesla Model 3 is a luxury mid-size 4-door electric car model. The regular Model 3 can travel 220 miles (350 km), as measured by the US Environmental Protection Agency, while the long-range model has a range of 3,000 miles (4,800 km).
SOURCE : ATTAQQA