Zinc prices rose to their highest level in more than 3 weeks today, Monday, which in turn will contribute to the rise in the prices of electric cars in particular, given its importance in the growing industry.
The benchmark zinc was traded on the London Metal Exchange, up 2.7% at $3,948 a ton, and the metal touched $3,995 a ton, the highest price since May 5.
The increase in zinc prices was driven by expectations of strong demand following the easing of coronavirus lockdowns in China – the largest consumer country – as well as lower inventories, and a weak dollar.
Price Hike Factors
Besides the rise in zinc prices, other metals have seen notable increases; Copper rose 0.7% to $9,530, and aluminum gained 0.6% to $2,890, the Financial Post platform reported.
Lead also increased 1.1% to $2183.5, tin rose 1.6 percent to $34.65 thousand, and nickel jumped 5.9% to $29.95 thousand per ton.
"Optimism about Chinese demand has resurfaced, and it seems that restrictions will be lifted gradually. But, in fact, the zinc story is about stocks and production cuts," said one trader.
Residents in two Beijing districts were allowed to return to work, while Shanghai came close to lifting the pandemic-induced lockdown starting on Wednesday, as the number of infections fell across China.
Zinc Stocks Are Declining
Among the main factors that led to the rise in zinc prices, is the decline in stocks of the metal in warehouses registered on the London Metal Exchange to 84.7 thousand tons, at their lowest levels since April 2020.
The canceled guarantees – which represents the metal for delivery – by 48% indicate that more zinc is due to leave the warehouses of the London Metal Exchange.
Europe is also facing a severe zinc shortage, as record high energy costs have reduced production, according to information compiled by the specialist Taq platform.
Europe accounts for about 15% of the global production capacity of refined zinc, which is estimated at 14 million tons in 2022.
Zinc stocks in LME depots in Europe are 225 tons, but only 25 tons of this number are available in the market.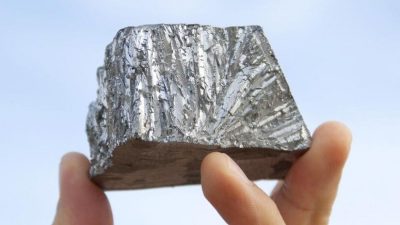 Other Factors For The Rise In Zinc Prices
Supply concerns increased the cash premium on the 3-month zinc contract, to $25 per ton, from $1 two weeks ago.
Zinc prices are also facing resistance at the 50-day moving average, which is currently around $4,010, while strong support comes from the 100-day moving average around $3,840.
Besides, a weak US currency makes dollar-denominated metals cheaper for holders of other currencies, which may boost demand for industrial metals.
The Importance Of Zinc And Its Uses
Zinc plays an important role in supporting clean energy technologies, as it has an excellent ability to protect metals from corrosion, and can be used to store electricity.
Zinc ranks fourth in the list of the most widely used metals, after iron, aluminum and copper, with a market estimated at $40 billion annually, according to a report seen by the specialized "energy" platform.
With the acceleration of electric vehicle adoption, zinc-ion batteries are safer than lithium-ion batteries; Which effectively eliminates the problem of fires that plague the industry.
In addition, manufacturers use zinc to coat the bodies of electric cars.
Zinc also enables other green technologies, such as solar and wind energy; Zinc-metallic coatings protect solar panels and wind turbines from rust.